Ofsted
Our last inspection was in 2018 on 6th November 2018. As a result of their visit, Ofsted judged the overall effectiveness of the Skegness Infant Academy, sponsored by the Greenwood Dale Foundation Trust (GDFT), to be 'good'.
Inspectors scrutinised records and documentation, observed lessons and met with pupils, staff and parents to get their views.
Read more information in the press release.
Read the full Ofsted report here.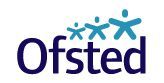 Parent View
Parent View is the main route for parents and carers to give their views to Ofsted during a School inspection and at any time of the year.
It also offers a simple way for those who lead and manage the school to find out what
parents think.
Please log on to the link below and let us know what you think of the Skegness Infant Academy.